---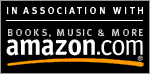 Find Books & More
Advertisements
Link Exchange
Home
Book Store
Best Selling Items
Blog
Clients
Contact
Employment
Feedback
Hits
Industries Served
Links
Resumes
Services
Skills
---
Paul Tomko
Aviation
Employment History
Korean
Music
Pictures
Quotes
Reef
Simpsons
---
---

Amazon On-line Bookseller is a safe, dependable and highly discounted purveyor of books, Music and Videos. Their on-line order processing is safe and secure. Amazon guarantees that you will not have to pay if fraudulent charges appear on your credit card. You can even call later with credit card information if you don't want to give credit card information over the internet.

Most items are shipped within a few days. I have ordered from them myself, and obtained the items in just a few days.

I have put together a listing in the next few web pages of some items that I find interesting, and I hope that you will, too.
---


Compact Discs and other Music


Videos, DVDs and Laser Discs
---
Don't see what you're looking for? Try searching Amazon.com
---
You are visitor number :

Since December 28, 1998



paul@tomkoinc.com